PAUL GINSBERG, AUDIO ARCHAEOLOGIST
Recently we were presented with a large 10-inch diameter reel of tape containing 960 hours of 911 police telephone and two-way radio recordings from 1980. This 32-year old tape was made on a machine that is outdated, and the manufacurer is no longer in business. No parts, no support, no service. The assignment was to locate a 911 call from a business that was being robbed, where the off-duty police officer security guard had been shot and later died. After performing some tests and experimeting, not only was the call located and downloaded, but so were six hours of two-way radio communications including full descriptions of the perpetrators and their car. This evidentiary material will be used in the prosecution of the suspects, finally, 32 years later.
Radio personality and friend, Jackie Martling, asked if I could retrieve and download original broadcast recordings of a live club date of Jackie Mason, also recorded in 1980. The reels were recorded on a machine running at a very high speed. After downloading the reels at normal speed, I digitally changed speed, enhanced the recordings, and produced CD copies.
The oldest recording came to me in the form of a download from a small plastic record sent by a serviceman in 1944 (69 years ago ! ! ! ) to his wife while he was on leave in San Francisco. The record had severe scratches and was barely audible. After using some advanced forensic techniques, his voice was audible, and was played to his descendents around the Christmas table.
P.A.L. Expands to New All-Digital Facility
We have just completed our move to our new larger, all-digital laboratory, and it is exciting. After running digital, audio, video and power lines, our new laboratory is complete and in full operation. We can now digitally enhance, duplicate, and examine recordings of all formats, from consumer microcassettes and cassettes, to the newest, most sophisticated digital surveillance recorders, including the F-Bird, Eagle, and Hawk, all with immediate turn around so that the intelligence gathered can be returned to you for timely review.
Paul Ginsberg Discusses Newest Bin Laden Tape on CNN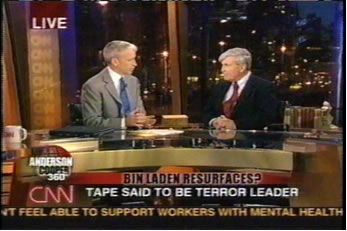 As a recognized leader in the field of recorded evidentiary conversations and electronic surveillance, Mr. Ginsberg is a frequent guest on CNN, FOX, MSNBC, as well as the New York Times, Bergen Record, The New York Post and the Newark Star Ledger, discussing the newest Bin Laden tapes, the missing 18-1/2 minutes on the Nixon Watergate tape, 911 Port Authority recordings, and the President Kennedy Dealey Plaza assassination recording.
Dead Man Talking
That is the name of a segment on the "Geraldo at Large" television show in which Paul Ginsberg analyzed, and digitally enhanced a 911 call to police, to demonstrate that the wealthy elderly husband of a recent young wife calling to say that her husband had died, was still alive and calling for help at the time of the call. What was first thought to be death by natural causes, is now being questioned. The body is being exhumed.
Reel Old Tapes
Recently a large brokerage firm came to us with a large number of 10-inch diameter, 60-channel reels of recordings. There are two places to find machines capable of playback of these reels: the Smithsonian and our lab. We played the reels, downloaded the pertinent information, enhanced the files for intelligibility, and generated enhanced CD's with the relevant conversations, ready for review and presentation.
Hollywood Calls –We Answer
A major Hollywood production company has contracted with Paul Ginsberg to assist in the production of a screenplay about the Nixon Watergate tape and its missing 18-1/2 minutes. It will be an exciting movie with a number of surprises. Mr. Ginsberg promises that the technical part of the movie will be accurate and as true to life, as possible. He lends his 30 years of expertise to the lead character while he tries to decipher the secrets of the missing 18-1/2 minutes.
Back to Real Life
Just a reminder that our main business is that of enhancing recordings that are evidentiary in nature. Please call so that we can provide you with a whole different level of support – expertise, experience, and quick turn-around. We look forward to assisting with your next case involving recordings.
Paul Ginsberg Explains How the Governor's Telephone Was Tapped.
A cassette of telephone conversations with Governor Pataki, Mrs. Pataki, and an aide, was sent anonymously to the New York Post. The newspaper went to Mr. Ginsberg to see what he could determine about the manner in which the tape had been made. Mr. Ginsberg, using state-of-the-art forensic equipment and techniques, determined that there were 88 discontinuities in the recording, and concluded that there were other tapes of conversations, not yet released. Read the NY Post article on his analysis in the NEWS section of this website.
The Voice of a "Dead Man" Made Audible
In Sarasota, Florida, a 70-year old man was having a heart attack. His new wife, a nurse, called 911 to report his condition. After the man died, his son questioned the events, and the original call to 911 was questioned. The son claimed that his father was still alive at the time of the call. After finally receiving a digital distortion-free copy of the original recording, Mr. Ginsberg was indeed able to hear a male voice asking about getting an ambulance, while the wife was receiving instructions on how to administer CPR. Dead or alive, new questions need to be answered. Read the Sarasota Herald Tribune article in the NEWS section of this website.
Testimony at the Richard Scrushy Trial in Birmingham
The defense team in the criminal trial called upon Mr. Ginsberg to counsel them on the secretly recorded conversations produced by the F.B.I. during their investigation of Mr. Scrushy. After an analysis of the recordings, Mr. Ginsberg pointed out the obvious deficiencies in some of the recordings introduced at trial. Mr. Scrushy was acquitted on all 50 counts


Paul Ginsberg Testifies at Russian Missile Trial
The F.B.I. and the Department of Justice called upon Paul Ginsberg to enhance surveillance videotapes made in Russia, of a terrorist underground arms dealer selling shoulder-held Stinger type anti-aircraft missiles for use in shooting at American airplanes. Mr. Ginsberg first converted the videocassettes from one international video standard, to one compatible with that used in the U.S., and digitally enhanced the soundtracks for use at trial. The conversations were in Urdo. Mr. Ginsberg has worked on recordings in 20 different languages.

On NBC Nightly News – A 40 Year Old Dictabelt
On the 40 th anniversary of the Warren Commission investigating the facts surrounding the death of President Kennedy, the original Dictabelt used by the Dallas police department that day was the focus of investigators. Scientists were going to attempt, using laser technology, to retrieve more information from the recording of the motorcycle officer's two-way radio transmission. Mr. Ginsberg explained the technique for the audience.

Inmate TelephoneTapes Deciphered
Paul Ginsberg was recently contacted by the Federal Bureau of Investigation and asked whether he could develop a system to detect, download, and decipher telephone conversations recorded on a 60-channel Dictaphone logger, in order to determine the times and channels of specific pertinent conversations of an inmate who was continuing his criminal enterprise while in jail. Within two weeks Mr. Ginsberg designed the computerized system, and had initial output. Hundreds of conversations followed, including several pertinent ones that proved that inmate witnesses had been lying to prosecutors.
The New York Times, as part of an investigation of the 9/11tragedy, uncovered a voicemail from a WTC worker to his loved one, on which it was suspected that a public address announcement might be heard in the background. The tape was given to Paul Ginsberg, who proceeded to clarify it to reveal the entire announcement advising to evacuate the building. (The full article with all details, entitled "9/11 Tape Has Late Change On Evacuation" by reporter Jim Dwyer, appeared in the New York Times last week, on Monday, May 17, 2004.
Mr. Ginsberg then proceeded to enhance and transcribe a ten-minute test section of the original Port Authority two-way radio tape. The result was a dramatic and improvement in the completeness and accuracy of the transcript of events of that day. Talks are now in progress to enhance and re-transcribe all of the recordings.
Working with state of the art digital enhancement techniques, Paul Ginsberg, president, Professional Audio Laboratories, enhanced the initial call to police, revealing a number of statements that may become useful in the ongoing investigation.
Following the appearance of the newest alleged Bin Laden tape, Paul Ginsberg was a guest on "Paul Zahn Now" on CNN to explain the different techniques used to examine a tape such as this one in order to determine voice identification, authenticity, as well as to gain as much information as possible about the makers of the tape, while preventing any imbedded messages from being transmitted. Mr. Ginsberg draws upon his experience working with the intelligence community, as well as his knowledge of recording, codes and ciphers, audio and two-way radio. He is a frequent guest on CNN whenever there is a newsworthy recording.
Mr. Ginsberg, as a new member of the Friars Club, on the occasion of the club's 100 th anniversary this year, has agreed to enhance and preserve all of the tapes of historical roasts for the last 50 years. Some of these are on reel, some on cassette, and some on videotape. This will serve as a pressure release while working on the 9/11 tapes.
We are now equipped to enhance the latest state-of-the-art digital recorders in use by law enforcement agencies around the world. Surveillance manufacturers send new intelligence gathering devices to us for evaluation. P.A.L. can now produce the clearest, most intelligible recordings from F-Bird, Eagle, Hawk, Condor, as well as many other new digital audio and video recorders used in undercover investigations.
For police, fire and EMS two-way radio communications, and brokerage or telephone call center conversations, we have logging equipment to handle all Dictaphone reel as well as digital recordings for download and enhancement for trial.
And, using the latest forensic software and techniques, we guarantee the clearest copies, ready for trial, overnight. From single conversation cases to wiretap and Title II multi-conversation cases, we provide the clearest, enhanced copies, along with supporting expert testimony with 1,650 trials of experience over 30 years.